CDW: A decade of design
This year marks the 10th anniversary of Clerkenwell Design Week. From what started as a humbling residential hub has become to be a hive of creativity and this year's event was bursting with activity. From resident showrooms, new designers, talks and workshops and further fringe pop ups, this year was not one to miss.
As passers-by begin to fill the cobbled streets of EC1, the sun comes out to play to kick start the first day of CDW2019. In the surroundings of spa-fields, situated next to London's infamous Exmouth Market is the Design Fields, showcasing an array of contemporary designs from international brands, including the Pastilles collection from Studiopepe from Tachini, Chatpods who showcased their isolation pods, made from 97% post-consumer content, making them 100% recyclable, and Aectual with their 3D printed architectural sustainable Space Dividers.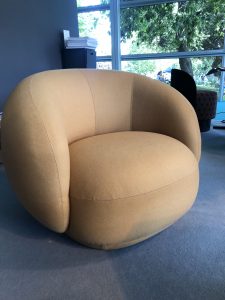 Situated around the corner was Orangbox's showroom, who hosted a series of seminars, including 'The Magical Wellness Mystery Tour' delivery by Jim Taylour and BCO's James Pack. The workshop immersed into an interactive session with the audience exploring wellness in the workplace, and what really matters to people in terms of a hierarchy of needs. The session was a useful way of teaching brands and designers how to engage with stakeholders for stronger results.
From the bright lighted showrooms, to the dark depths of 'The house of detention' at Clerkenwell's old prison (known for holding prisoners awaiting trial during the 1800s), each cell gave space to future icons and designers about to break the industry such as Gwendoline Porte Design with her modern sculpture/furniture and INTARC Design's Hex and Worx agile working methodology, a bespoke system that can work individually or collaboratively within any flexible working space.
Before sunset, in the grounds of St James Church, The Projects venue showcased a biophilia theme from brands such as ORN's living wall and their Konnect zoning system, aswell as modulys with their impressive stand enhancing the life of carpet tiles which can be utilised from floor to walls, improve acoustics, air quality, and will suit any interior design.
Celebrating a decade of design, Clerkenwell Design Week continues to be the heart, home and hub of creativity, aswell as continuing to maintain it's reputation as the UK's leading independant design festival. Thank you Clerkenwell for yet another year of incredible inspiration!